Bradshaw to chair new Nissan advisory board
IHMC Senior Research Scientist Jeff Bradshaw has been named chair of the inaugural Scientific Advisory Council for the Nissan Research Center — Silicon Valley, in Sunnyvale, Calif.
The advisory group will give guidance on matters of science, technology, research and other similar topics of special interest to Nissan Motor Corporation. That includes research regarding autonomous vehicles, connected vehicles, human machine interactions and other matters of special interest to Nissan.
"I'm excited to work with this stellar group of experts," Dr. Bradshaw said. "Nissan's commitment to a human-centered, rather than a technology-centered, design approach puts them in a unique and enviable competitive position. As a result, they will produce well connected, environmentally aware and highly capable vehicles that excel in their safety, usability and usefulness."
The other members of the board are James Euchner, vice president of Global Innovation, Goodyear Tire & Rubber Company; Dr. Don Norman, co-founder of the Nielsen Norman Group; Dr. Missy Cummings, associate professor at Duke University and director of the Humans and Autonomy Laboratory; and Dr. Terry Fong, director of the Intelligent Robotics Group at the NASA Ames Research Center.
Human-Agent-Robot Teamwork has been a central interest for Dr. Bradshaw. From 2002-2006, IHMC's KAoS framework was used as part of a NASA series of annual two-week field tests of human-robot teams led by Dr. Bill Clancey and Dr. Maarten Sierhuis performing simulated planetary surface exploration at the Mars Desert Research Station in the Utah desert. With Dr. Sierhuis he co-founded and, with the help of Dr. Catholijn Jonker and Dr. Virginia Dignum, organized the Human-Agent-Robot Teamwork Workshop series (HART). Recently, Dr. Bradshaw led an international workshop for the National Academies of Science (NAS) on Intelligent Human-Machine Collaboration.
In collaboration with Dr. Paul Feltovich, Matt Johnson and Dr. Robert Hoffman of IHMC, and Dr. David Woods and others, Dr. Bradshaw has co-authored a series of influential articles relating to the inadequacies of the supervisory control model, the "myths of autonomy," and the virtues of what Johnson has termed, developed and championed as "coactive design" — an approach to human-machine interaction that contributed to IHMC's leading performance within the DARPA Robotics Challenge program.
Nissan, Japan's second-largest automotive company, is headquartered in Yokohama, Japan, and is part of the Renault-Nissan Alliance. Operating with more than 236,000 employees globally, Nissan sold more than 4.9 million vehicles and generated revenue of $116.16 billion in fiscal 2012.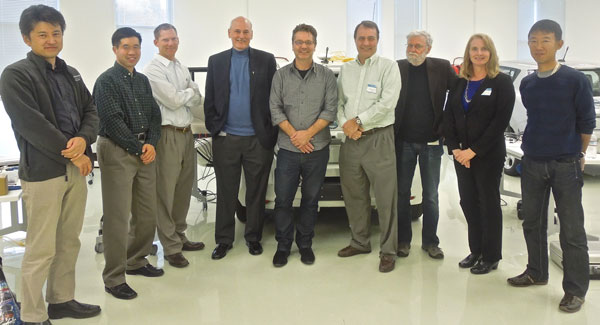 IHMC Senior Research Scientist Jeff Bradshaw has been named chair of the inaugural Nissan Scientific Advisory Council (SAC). Pictured from left to right: Yoshitaka Deguchi (Nissan Research Center-Sillicon Valley, Principal Researcher); Terry Fong (member, SAC); Greg Dibb (NRC-SV, Senior Manager of Strategy and Operations); Jim Euchner (member, SAC); Maarten Sierhuis (NRC-SV Director); Jeff Bradshaw (Chair, SAC); Don Norman (member, SAC); Missy Cummings (member, SAC); and Takeshi Mitamura (General Manager, Nissan Mobility and Services Laboratory).