Bill Clancey Named NAI Fellow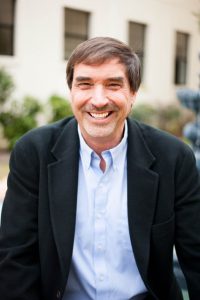 As a mathematical sciences major at Rice University in the 1970s, William "Bill" Clancey took courses in 13 different departments—ranging from philosophy and anthropology to art and music.
But it was a cover story in Life Magazine about Shakey, the first robot who could analyze and carry out consecutive commands, that opened up Clancey's world onto the newly emergent field that he would spend much of his career working on: artificial intelligence.
Clancey was especially interested in the philosophical and psychological underpinnings of artificial intelligence, pondering questions such as: What is the nature of knowledge? What can computers do? Can knowledge be converted into a program?
"You really need to understand people and psychology if you are going to build a smart machine," he said.
Those initial insights led Clancey down the path of a brilliant career that includes holding six patents and establishing two software companies.
Most recently, Clancey, a senior research scientist with the Florida Institute for Human and Machine Cognition (IHMC), was named a Fellow of the National Academy of Inventors (NAI).
The Tampa-based Academy named a total of 168 Fellows this week, bringing the total number of Fellows to 582. This is the fourth year that Fellows have been named.
IHMC CEO and Director Ken Ford, who is also an NAI Fellow, said, "Bill joins a league of highly distinguished scientists with this recognition. He has made landmark contributions to artificial intelligence research, specifically in evaluating complex human-automation interaction in safety-critical situations."
Clancey is most well-known for developing a work practice modeling and simulation system called Brahms, a tool for comprehensive design of work systems, relating people and automation.
Using the Brahms modeling system, scientists study the flow of information and communications in real-world work settings, and the effect of automated systems. One important practical application is the coordination among air traffic controllers, pilots and automated systems during flights.
The Brahms system, for example, could be used to help prevent miscommunication when it most matters, or as Clancey said, where "every single second counts."
One striking example of a situation in which Brahms might have saved the day had it been applied was the mid-air collision between two planes in Überlingen, Germany in 2002 that killed 71 people. The pilots on the two planes received conflicting information from the traffic collision avoidance system (TCAS) and the air traffic controllers, leading to the collision.
"Before TCAS was deployed commercially, engineers verified that the program would give the right advice to separate the planes. What they didn't consider is if the air traffic controllers gave conflicting advice at the same time," Clancey said. "This is where Brahms comes in."
Brahms could simulate, second-by-second, what pilots, air traffic controllers, and others are doing. "It simulates what is on their radar screens, who is talking to who on the radio…. You can see what is happening in a distributed way," Clancey said.
"AI artificial intelligence systems become players in the overall choreography of what's happening where many lives are at stake," he continued. "The Brahms system is very broadly applicable to situations on earth, in air, in space or undersea."
Notably, NASA applied Brahms to automate routine file communications between the International Space Station computers and support personnel at NASA centers. "In some humble way, if I could say, 'Why do I deserve this?' NAI Fellow … it would be the application we made using Brahms at NASA," Clancey said.
Within the past few years, interest in Brahms has picked up across the government, he added.
"We're just on the edge of government agencies starting to ask for proposals with this type of capability," Clancey said. That's not unusual, he added, since AI research has typically been a decade or two ahead of society's readiness to apply it.
Clancey predicts that the application of these tools in the aviation world "is a story that's going to be unfolding in the next few decades," particularly as the air traffic control system incorporates satellite-based navigation.
Clancey also notes as a professional achievement his early involvement in a project called MYCIN, out of Stanford University. It was a system that attempted to diagnose patients based on reported symptoms and medical test results. Already way ahead of the game, MYCIN, at the outset of its development in the 1970s, was especially designed to prevent the over-prescription of antibiotics.
"If MYCIN had been deployed and used systematically, we might not have had the problem of super infections that we have today," Clancey said.
Clancey is one of three scientists affiliated with IHMC, including Ford, to be named a NAI Fellow. Alain Rappaport, also a NAI Fellow, is on the IHMC Board of Directors.
The NAI Fellows will be inducted on April 15, 2016, as part of the Fifth Annual Conference of the National Academy of Inventors at the United States Patent and Trademark Office (USPTO) in Alexandria, Virginia.