Cybathlon 2020
IHMC is competing in Cybathlon 2020, a unique championship in which people with physical disabilities compete against each other to complete everyday tasks using state of the art technical assistance systems. The virtual competition will be held November 13-14, 2020. IHMC will be participating in the Powered Exoskeleton Race, using our Quix mobility device piloted by Mark Daniel.
Quix is a powered exoskeleton that provides people with lower limb paralysis increased mobility and independence. It also has the potential to eventually replace the wheelchair. This is the fourth exoskeleton prototype developed from the ground up by researchers and engineers at IHMC. For more information on how you can become a sponsor or donate to the Quix project, please visit helpquix.org.
Quix Pilot – Mark Daniel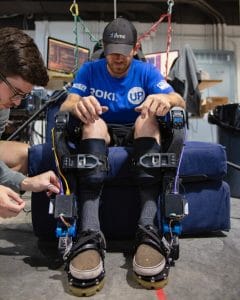 Quix is designed for people like Mark Daniel, co-creator of IHMC's powered exoskeletons. Mark was paralyzed as the result of an automobile accident over a decade ago. He has been working with IHMC since 2010, helping us develop and test our devices. In 2016, Mark piloted our Mina v2 prototype at the 2016 Cybathlon and took home the Silver Medal.
Designer, evaluator, and user representative, Mark was born and raised in Pensacola. As a young adult he graduated high school early and pursued a career in ironwork. First going to trade school for diesel mechanics, then learning how to weld and fabricate. In 2007, at eighteen years old, Mark started his career and began planning his next steps. Working long hours in risky conditions was exciting at first, but after five months the work took its toll. He fell asleep driving home, flipping his SUV several times, and awoke in the ICU of a local hospital. After learning of his paralysis, he set out to regain his independence.
Quix Device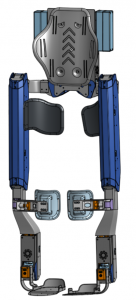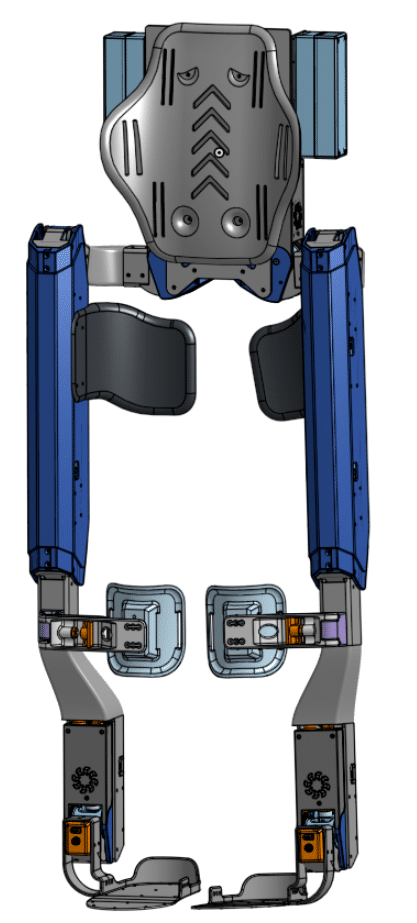 Quix is a powered exoskeleton that IHMC is developing to provide increased mobility and independence to people with paralysis. The device will allow users to stand up and walk through a variety of environments, including up and down stairs and ramps, and across both flat and bumpy terrain.
Powered actuation at the hip (both flexion/extension and adduction/abduction), knee (flexion/extension), and ankle (plantarflexion/dorsiflexion) provide smooth and natural walking motions. These eight actuators enable the device to exhibit a wide variety of movements, utilizing a combination of actuation in both the sagittal and frontal planes. Each actuator weighs about 2.5 kg and can achieve a peak torque of 200 Nm and peak speed of 7 rad/s. The exoskeleton is powered by two 6S lithium polymer batteries that supply a maximum operating time of approximately 1 hour of heavy usage. These batteries are housed in the backpack and can be hot-swapped to allow for extended run times.
Each actuator houses its own required electronics, including a motor driver and logic board. The actuators in each leg are daisy-chained to each other by the power and data lines that originate in the backpack. The software control algorithms are dependent on commands from the pilot and feedback from the exoskeleton's sensor suite. An inertial measurement unit (IMU) provides orientation of the exoskeleton, which can be used to help balance the device. Pressure-sensing footpads provide center-of-pressure feedback which is a key parameter for various walking controllers. A set of push buttons and LCD screen on the crutch wirelessly transmit commands, allowing the user to select among different behaviors such as sit, stand, and different walking speeds.
Quix Sponsors
Research Projects:
Past Projects:
IHMC Research Team: